Blair & I are very excited to announce a new book club series. It ain't your mama's book club! Not that there's anything wrong with hers. Anyway, I hope you'll decide to join us. We look forward to connecting with you!
Who is this? What is this?
Sisters, standing smack dab in the middle of grace & truth. Reading whatever Jesus brings our way. Journaling our way through life change. Building a community of sisterhood, friendship, & accountability. Loving on each other every Thursday. Come join the fun!
An online book club? How on earth?
Grab a copy of Grace for the Good Girl, by Emily Freeman. Look, I even found a Kindle version! This book was the inspiration for our plan and after Emily's blessing, we decided it was a great place to start. We'll be covering one chapter a week, with blog link-ups on Thursdays.
When do we start?
Next Thursday, November 15! We'll cover the introduction & Chapter 1. Feel free to share whatever questions/quotes you like from the selected reading.
Where do I share?
Wherever you want! Write a blog post, a Facebook status, a short tweet… you can even post your progress on Instagram! photo on Instagram! Don't forget to use the #thesamepage hashtag. Grab a button and tell a friend who likes to read. Or maybe even a friend who doesn't!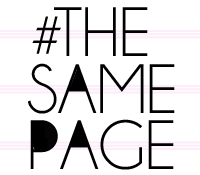 If you're the type who performs well with writing prompts (raises hand), tackle one of these questions:
I fear I fall through the cracks because my story draws no attention.  I lack intrigue, drama, and interest.  Can he see ordinary, unspectacular me? p18
While I thought I was searching for Him, he graciously, miraculously, and intentionally found me. pg22
What does life look like for you when you are being driven by fear?  What is your "sometimes truth" that challenges Love's lead in your life? p20,23

We want this to fun, challenging, encouraging, and empowering. 
All are welcome. Now let's get to reading!